Designer-Wallpaper
Designer-Wallpaper.com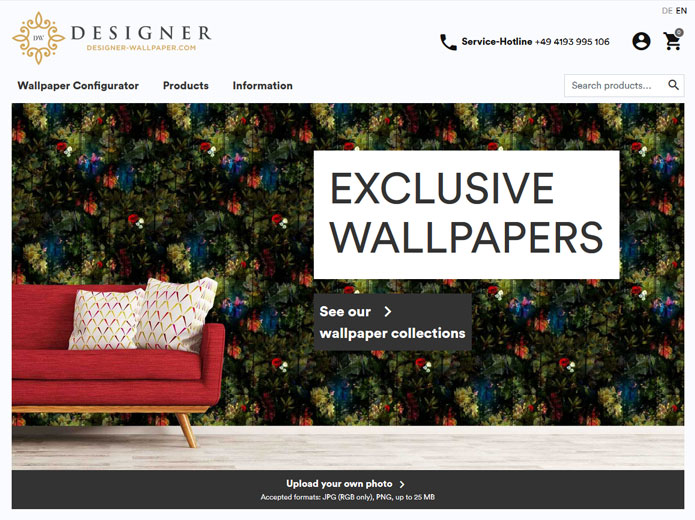 Exclusive designer wallpapers
DESIGNER-WALLPAPER.COM
was born from the idea to offer high-quality wallpapers with first-class design for demanding applications. The start of the cooperation with the paper factory Felix Schoeller in 2018 gave the last impulse for a development of this wallpaper online shop.
High-quality materials
High-quality EMBLEM non-woven wallpaper, unique design wallpaper or patterned wallpaper made by DATAPLOT, printed with modern
Greenguard gold-certified inkjet technology
, with a large selection of professional wallpaper designs by renowned artists, produced sustainably and to customer requirements:
this is
DESIGNER-WALLPAPER.COM
Wallpaper designs allert Art
Discover exclusive luxury wallpapers and design wallpapers for living room, bedroom, children's room, hallway and bathroom. Wall design at the highest level, wallpapers designed and created by professional, experienced designers. Wallpaper patterns in a wide range of themes, from flora and fauna, to city and landscape, to abstract wallpaper motifs and geometric wallpapers. Classic motifs like retro design wallpapers, rustic style wallpapers, extravagant wallpapers, baroque style wallpapers, impressionistic and expressionistic motifs, children's motifs for the children's room or wallpapers in pastel colours - we offer the whole range. Bring colours and emotions into your home. Also suitable for commercial applications, trade, B2B applications, for companies and business customers.
Design your own photo wallpaper
Alternatively, you can also use our
wallpaper configurator
to easily design your own photo wallpaper - simply upload a picture or photo, set wall dimensions, configure and order.
Environmentally friendly and resource-saving - guaranteed!
We conserve resources, are environmentally friendly and only produce the quantity of wallpaper that the customer specifies in the shop as wall size - also matching the repeat, wallpaper web for web printed and ready cut in 70 cm width. This means that there is hardly any waste when the wallpaper is applied and resources and the environment are conserved during production. You will receive a sample of the wallpaper with every order in order to be able to check the quality and appearance of the print. Thus we guarantee the satisfaction of our customers.
Profis für die Wandgestaltung
The TEAM:
Nothing is more boring than an unprinted strip of wallpaper. The design printed on it makes up the wallpaper.
DESIGNER-WALLPAPER.COM
is a team of artists and designers from Germany, the UK and other European countries.