About
The histoy of Dataplot: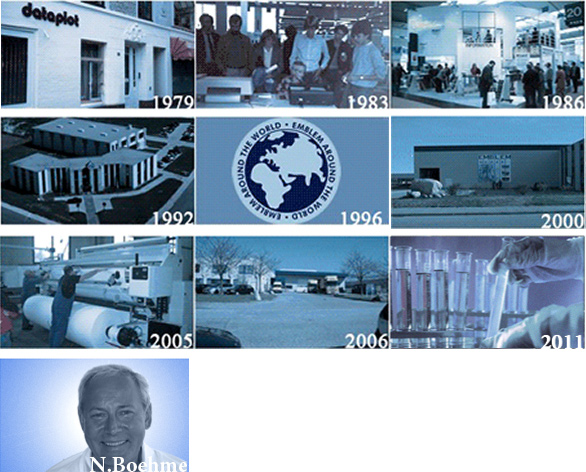 DATAPLOT has been at home in the field of digital large format printing since 1979.
The first printing machines were plotters and were used for almost every type of construction drawing.
Today DATAPLOT supplies state-of-the-art large format printing machines of the brands OKI, Mutoh, Roland and Summa in Germany.
The connection between know-how in printing technology, software and the production of print media (e.g. special papers, banners, textiles etc.) is unique.. Today DATAPLOT has more than 100 different print media at its disposal, which are processed up to a width of 3.20m in its own factory. The EMBLEM brand is one of the best-known print media brands in Europe, the USA, Africa and Asia. This is ensured by specialist dealers in 42 countries.
In addition to this is an international service and spare parts distribution for the systems installed by us.
Thus DATAPLOT is a full-range supplier in the field of digital large format printing and a traditional company with 58 employees in Germany.
2018
Renewal of FSC® certification
2018
First coating test in 160 cm Smart-Coater
2013
Dataplot commits itself to act in accordance with the FSC® guidelines and to contribute to sustainability and is certified for the first time (FSC-C119162).
2011
Development of a new textile coating.
2006
Building of a further hall with nearly 1000m² for logisitcs.
2005
Start of operation of the first 3,20m finishing line in europe.
2003
Consider please the new appearance of www.emblem.de
2000
Building of a further production plant with two of the most modern finishing lines.
1996
Implementation of the label EMBLEM Professional Printmedia. Beginning of internationalization.
1992
Move from Hamburg to Henstedt to enter our new bulding.
1986
Begining of hardware activities.
1983
First participation in a fair with Europes largest special-plotter-roll programm.
1979
Founded by Norbert Boehme.

Address:
Dataplot GmbH
Gutenbergstraße 15
D-24558 Henstedt-Ulzburg
Managing Director CEO:
Norbert Boehme
Karsten Werther
Telefon: +49 4193-9950
Telefax: +49 4193-995220
DATAPLOT Website